V Edition enterprise Day IME
An achievement for the whole team of Honza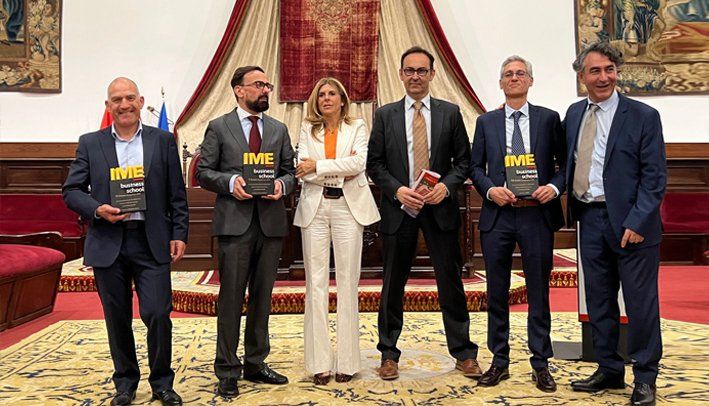 The Multidisciplinary Institute of Enterprise (IME) of Salamanca University has celebrated the V Edition of the Enterprise Day, gathering at the Paraninfo of the Historical Building from Salamanca University, about 300 people, including businessmen, executives, teachers, students and old studients.

It is a day to recognize the effort of the companies that collaborate with the activities of the IME, especially those ones that were organized by IME Business School from Salamanca.

The IME project, with 15 years track, has the mission to develope the abilities of people and enterprises to reinforce their contribution to the economic development. Julio Pindado, IME Business School President, remembered that mission and named the initiatives done to support the companies and to have a transformative impact in the society.

The rector of Salamanca University, Ricardo Rivero, gave three recognitions, exceptionally, due to this event could not have been celebrated in the years before, awarding the V Enterprise Prime IME to Jamones Blázquez, the VI Enterprise Prime IME, to our company, Honza, and the VII Enterprise Prime IME to ISEND.

This is a honour for us to recieve this prime, the collaboration with Salamanca University is being very worthy and is making possible to us to grow up in some aspects.

We are commiment to continue taking part in different programs, such as the talent incorpotarion and the training of our employees. Also, it is an excellent opportunity to encourage the networking amoung the companies and the students of Salamanca University, that is looking for work opportunities.

This recognition is the result of the daily work, the dedication and the commiment of each member from our team. We feel very proud and thankful for the support and the collaboration for everyone.

This goal is for each one who are part of Honza!