Chicken breasts with morels
A delectable recipe with morels
Preparation time
20 minutes
INGREDIENTS
400 g Honza "Frozen morels"
4 chicken breasts
30 g butter
2 shallot
15 cl white wine
20 cl chicken stock
150 g thick cream
Salt and pepper
PREPARATION
Peel and cut the shallots.
Melt the butter in a casserole dish, and brown the chicken breasts on all sides. Set them aside.
In the same casserole dish (without removing the fat), add the shallots and remove them. Pour in the white wine, reduce for a few moments and pour in the stock. Season with pepper.
Add the chicken breasts and morels and cook over a low heat, covered, for 25 minutes.
Add the cream, mix and continue cooking for 5 minutes. Add salt if necessary and serve with rice or pasta.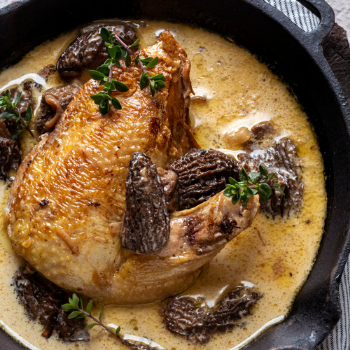 OUR FEATURED PRODUCTS
The morel is a brown and fleshy mushroom, appears in spring, especially in the ash forests. Morels are excellent to accompany festive meals in a multitude of dishes, such as risotto.