Ham toast with cream mushrooms
A savory recipe about mushrooms with cream
Preparation time
15 minutes
INGREDIENTS
200 g Honza "Mushrooms with cream"
4 slices of village bread (about 1 cm thick )
15 g butter
15 g flour
25 cl milk
1 pinch of nutmeg
4 thick slices of baked ham
100 g grated cheese
Salt and pepper
PREPARATION
Prepare the bechamel sauce or white sauce. Melt the butter in a saucepan. Once it has melted, add the flour and mix with a wooden spoon. Over low heat, beat the mixture little by little pouring the milk. When the béchamel thickens, remove from the heat. Add a pinch nutmeg, salt and pepper.
In a large frying pan, sauté the mushrooms in the cream for 15 minutes, stirring until it is well defrosted and there is no more
Cooking water.
Preheat oven to 200ºC. and lightly toast the bread slices.
Place the 4 slices of bread on a baking sheet covered with baking paper. Put the bechamel sauce on it and place the ham. Cover with the creamed mushrooms and sprinkle with cheese.
Bake in the oven for about ten minutes.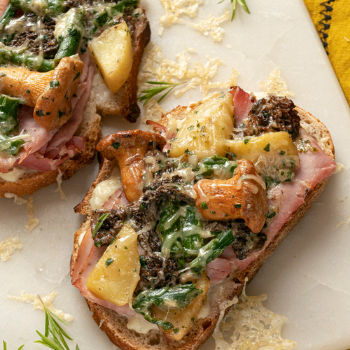 OUR FEATURED PRODUCTS
setas a la crema
This tasty mixture of chanterelles, morels, potatoes and asparagus, is completed with a soft cream, to sublimate the mushrooms.