Mushroom tart with parsley
A delicious recipe with mushrooms with parsley
Preparation time
15 minutes
INGREDIENTS
800 g Honza "Parsley mushrooms"
1 puff pastry dough
30 g Parmesan cheese chips
Olive oil
20 g chorizo slices
Salt and pepper
PREPARATION
Preheat the oven to 190ºC
In a large frying pan, sauté the parsley mushrooms for 15 minutes until it is well defrosted and there is no more cooking
water.
Unroll the pastry and place it in a cake pan, keeping the baking paper on.
Pour the mushrooms over the bottom of the dough and sprinkle with half of the Parmesan and chorizo slices. Bake for 20 minutes.
When removed from the oven, drizzle with olive oil. Serve immediately.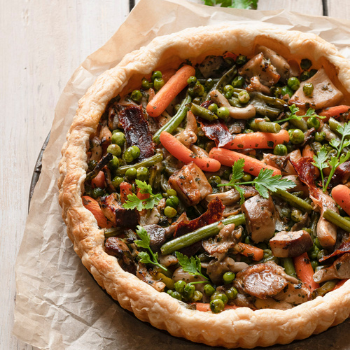 OUR FEATURED PRODUCTS
Parsley mushrooms
The simplest and most essential preparation of mushrooms. Short on cooking time? This stir-fry is perfect for a quick and balanced recipe.