Fried egg with truffle and crispy bacon
A tasty recipe with truffles
Preparation time
15 minutes
INGREDIENTS
800 g of Honza "Sauteed Truffle"
8 eggs
20 g butter with salt
4 tablespoons of thick cream
8 slices of bacon
A few sprigs of chives
PREPARATION
Place the slices of bacon on a foil-covered baking tray covered with baking paper for 5 minutes under the grill. Set aside and preheat the oven to 200ºC.
Butter 4 bowls. In a frying pan, sauté 15 minutes stirring, when It is golden brown, keep warm over low heat.
Carefully break 2 eggs in each bowl. Add cream and pepper.
Bake for 10 minutes, until thick cream has consistency.
Remove the bowls from the oven and serve with truffle. Sprinkle with chopped chives and serve with slices of bacon.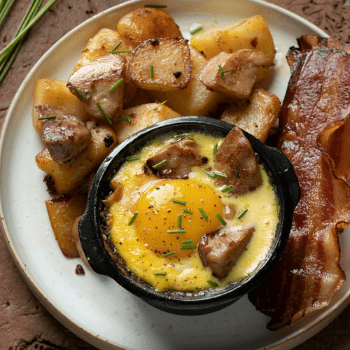 OUR FEATURED PRODUCTS
Sauteed truffle
Wonderful combination of flavors and aromas, this sauteed mushrooms and potatoes forms a good contrast with the taste of the truffle.