Grilled scallops with chantarelles
A savory recipe for chantarelles
Preparation time
20 minutes
INGREDIENTS
300 g Honza "Frozen Chanterelle"
12 scallops
75 g salted butter
20 sprigs of chives
10 sprigs of parsley
2 cloves of garlic
Pepper
PREPARATION
Defrost the chanterelles lightly on paper towel.
Peel the garlic clove and remove the germ. Wash and dry the herbs well. Chop the garlic with the herbs and add the soft butter and pepper. Mix to a smooth paste.
Preheat the oven to 210ºC. Place the scallops on a plate and add a dab of herb butter. Bake for 10 minutes.
Meanwhile, sauté the chanterelles in a frying pan over medium heat. When the water runs out, add the rest of the butter to the herbs and brown them 5 minutes, stirring.
Serve the scallops with the chanterelle and enjoy immediately.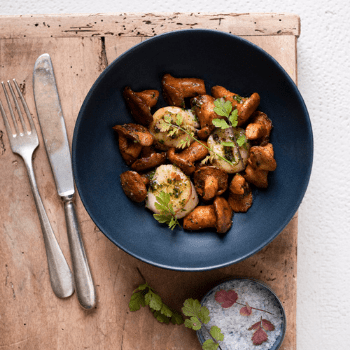 OUR FEATURED PRODUCTS
Chantarelles
The Chantarelle is an exceptionally delicate mushroom found mainly under conifers and on the roadside. This delicious mushroom perfectly accompanies your white or roasted meats.