Mixed mushrooms risotto
A succulent recipe with mushrooms
Preparation time
15 minutes
INGREDIENTS
500 g Honza "Extra mixed mushrooms"
300 g arborio rice
2 shallots
12 cl white wine
80 cl chicken stock
10 g butter
2 tablespoons olive oil
30 g salted butter
40 g grated parmesan
Pepper
PREPARATION
In a large frying pan, sauté the Extra mixed mushrooms for 15 minutes until it is thoroughly thawed and there is no more cooking water.
In a frying pan, heat the olive oil and butter. Sauté the shallots and add the rice. Mix well so that it does not turn brown.
As soon as the rice is pearly, pour the white wine, let it evaporate while stirring. Pour in a ladle of hot stock and mix. Continue cooking by adding a little stock and continue cooking the rice for about 20 minutes.
When the risotto is cooked, add the mushrooms and add the cold salted butter. Mix well and serve with Parmesan cheese.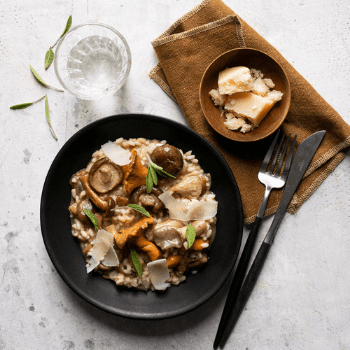 OUR FEATURED PRODUCTS
A delicious mixture of mushrooms for an explosion of flavours.